Time Zone Game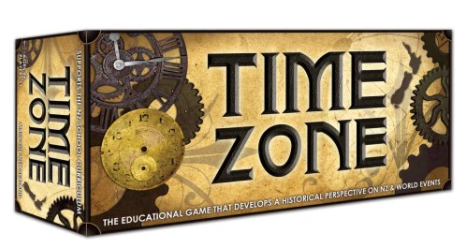 Time Zone is an educational game that challenges and teaches general knowledge about New Zealand and world events:
A game where players place important historical events in a timeline. The first player to get 10 Event Cards in the right sequence wins.
3 games in one – play with all the cards, or just New Zealand events, or just world events.

Has instructions for solo, group or team play.

Full instructions on how to play, including 10 different game variations.

Ages: 9+

Players: 1+

Supports the New Zealand School Curriculum
Winner of the New Zealand Games Association 2011 Children's Choice Award
Have fun, compete with other players, and learn more about New Zealand and the world in this exciting educational game. Time Zone contains 250 New Zealand Event Cards and 150 World Event Cards.
Did the 40-hour working week become compulsory before or after the first Labour Government was elected?
Was the Treaty of Waitangi signed before or after the Hawke's Bay earthquake? Was this before or after the Magna Carta was signed?
Was the last hanging in New Zealand before or after the first open-heart surgery in New Zealand? Was this before or after GST was introduced? Was this before or after Jean Batten flew to New Zealand?