Discover NZ Game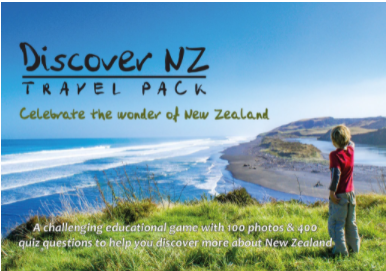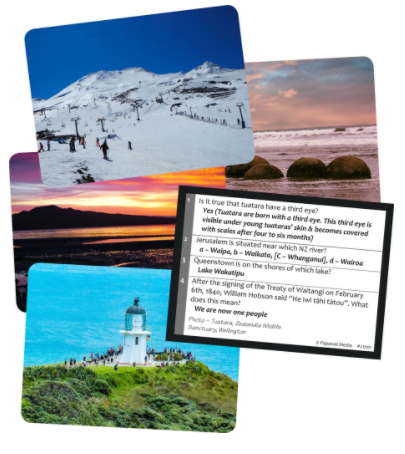 Discover NZ is a uniquely New Zealand game, with 100 cards and 400 questions – ALL about New Zealand. These questions aren't trivia, but are good general knowledge questions from a range of areas. The questions are set at four different levels – so that anyone from primary school age upwards can play.
Discover NZ has 100 beautiful photos of New Zealand – this makes it an attractive gift for New Zealanders and visitors alike. This is a great game for travel and home, revealing some of the wonder of New Zealand.
Discover NZ is designed for both travellers and tourists – it makes a great gift, souvenir or family game.
Discover NZ is:
Designed & made for NZ
Broad range of questions about relevant topics
Not Trivia – but good educational material
400 Questions & Answers on 100 cards in a convenient box
100 beautiful photos of NZ
Extra interesting information is included with the answers
4 different levels of challenge
Ages: 8 to 108
Players: 2+ (& can be played in teams, used as class quiz, tests etc)
Designed so adults & children can easily play together
Supports the NZ School Curriculum
Full instruction on how to play, plus suggestions for other methods of play
Topics covered include:
History, Geography, Sports, Birds, Animals, Fauna, Politics, Famous people, Music, Māori, Film, Place Names, Literature, Climate, Business, Art, Technology, Disasters, World Firsts, Quotes, General Knowledge
Purpose
To provide an opportunity for adults & children to have fun and learn about NZ
To improve general knowledge about NZ
To develop an appreciation of NZ's uniqueness, bringing out a sense of interest & pride in NZ